BIOGRAPHY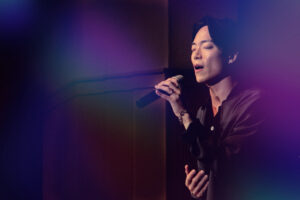 サムエル・ソング
韓国ソウル生まれ。宣教師の息子として生まれる。6歳で日本に移住。14歳の頃からピアノやギターを弾き始め、独学で作詞作曲を始める。
日本語、韓国語、英語を操るトライリンガル・シンガー。2011年よりゴスペルシンガーとして本格的に活動を始める。教会を中心に、全国、また海外のライブハウスや市民ホールなどでの公演活動、TV出演、ラジオのホストを務める傍ら、通算5枚のアルバムをリリースし、数々の客演やコンピレーションアルバムなどへの参加を果たす。2018年より、アーティストとしてだけでなく、オリジナルのワーシップソングの制作や海外有名曲の翻訳やリメイク、またワーシップリーダーとしても活動している。
自身の活動の他、様々なアーティストとのコラボレーションや、作詞作曲の提供もしている。
リリースアルバム一覧
SAMUEL -「REAL」
Samuelle - 「Believe in Love」「So Brand New」「Seasons 〜悲しみの意味〜 Samuelle meets Tomihiro Hoshino」「Silence of Sound」
Samuell Soung - 「主に感謝せよ」「HOLY feat. Ricky」「Arise」「全地に満ちるまで(hi-b.a.70周年記念ソング)」「祝福の詩(feat. 安武玄晃)」「デジタル配信
7曲入り初のワーシップアルバム「ARISE」2022/5/18リリース!
Samuell Soung
Born to a family of missionaries in Seoul, Korea, Samuell moved to Japan at the age of six.
Starts playing the piano and guitar at 14, as well as writing his own songs.
Begins a career as a full time Gospel musician at 2011, and has since enjoyed a successful career involving but not limited to live shows in and out of Japan, tv appearances, radio host, the release of a total of 5 full feature length albums, and multiple collaboration works.
As of 2018, Samuell has started working on multiple projects not just as an artist on stage, but as a worship songwriter, and has since been involved in several translations/rearrangements of praise and worship songs written overseas.
He is also known for his contribution as a worship leader, frequently collaborates with other musicians and writes for them as well.
Samuell is a trilingual singer with a firm command over English, Japanese and Korean, and is an established artist within the secular and Christian community alike.
Discography
SAMUEL -  "REAL
Samuelle -  "Believe in Love", "So Brand New", "Seasons 〜Kanashimi no Imi〜 Samuelle meets Tomihiro Hoshino, & "Silence of Sound"
Samuell Soung - "主に感謝せよ", "HOLY feat. Ricky", "Arise", "Zenchi ni Michirumade (hi-b.a. 70th Celebration Song)", "The Song of Blessing (feat. Motoaki Yasutake)" Digital single
Full length worship album "ARISE" released on May 18, 2022!